Drew Pisarra is a 2019 literary grantee of the Café Royal Cultural Foundation, Drew Pisarra has also won grants/commissions from the Brooklyn Arts Exchange, Curious Elixirs: Curious Creators, Imago Theater, the Portland Institute of Contemporary Art, the Portland Art Museum, and the Regional Arts & Culture Council.
You're Pretty Gay marks his second collection of short fiction. The first, Publick Spanking, was released by Future Tense Books and was hailed as "mesmerizing" by Puck Magazine and "brutally real" by PDXS.  His subsequent book, the sonnet collection Infinity Standing Up, was published by Capturing Fire Press and lauded as "brazen and lusty and often amusing" by The Washington Post and "by far one of the most relatable volumes of poetry currently in print" via Valley Voices.

An award-winning poet and playwright, Drew Pisarra once toured his one man shows ("Fickle," Queer Notions, The Gospel According to Saint Genet) around the United States before abandoning the form altogether and switching over to television for nearly a decade. There he worked in the digital sphere on behalf of such iconic shows as Mad Men, Rectify, and Breaking Bad.
Additionally, Pisarra is the co-founder of Saint Flashlight (with Molly Gross), an art activation project that finds inventive ways to get poetry into public spaces. Their work has been produced by the Poetry Society of America and the Poetry Project and featured at O, Miami Poetry Festival and Poets House NYC.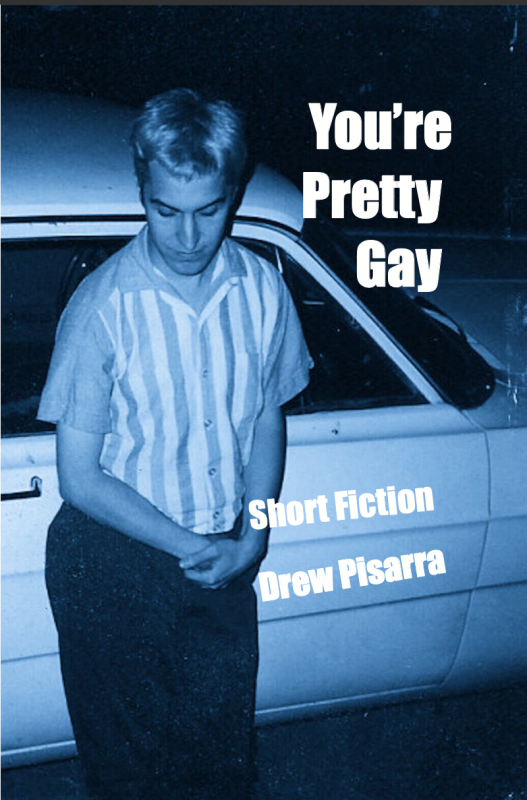 "You're Pretty Gay is a prime example of Drew Pisarra's dangerously funny and queerly inventive brain. Each story is its own performance, its own shattering of expectations and social mores. But shining through all the wild wit is a glowing heart looking for connection."
– Kevin Sampsell, This Is Between Us
"Drew Pisarra is a poet writing prose. And his second book of stories, You're Pretty Gay, reveals his poetic gifts – the nakedness, the clarity, the conciseness – in all their glory."
– Leanne Grabel, Brontosaurus: Memoir of a Sex Life
"Each highly enchanting story is like another spoonful of a gloriously rich yet light gateaux that will makes you hungry for more."
– Alison Norrington, Class Act
"These stories instill a sense of anticipation and longing, recalling not simply what happened but also bringing forth the wishes for what might have been."
– Nicholas Ealy, Narcissism and Selfhood in Medieval French Literature: Wounds of Desire