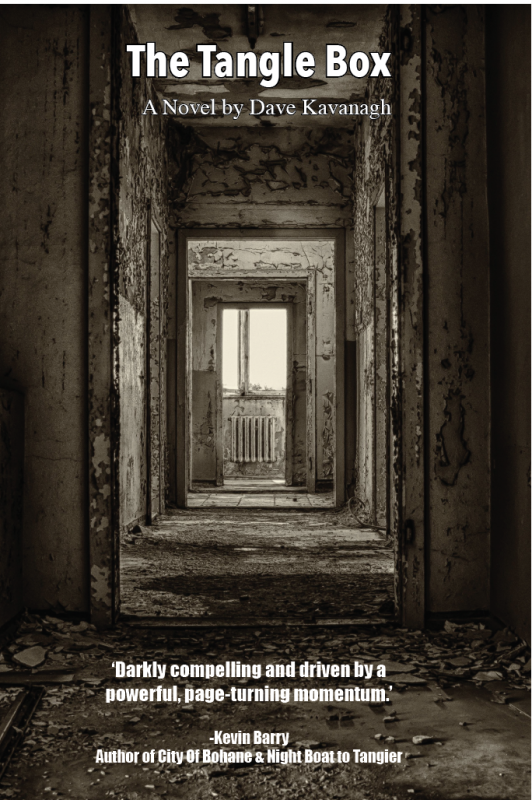 The Tangle Box by Dave Kavanagh; a story you will never forget
"Darkly compelling and driven by a powerful, page-turning momentum."
-Kevin Barry
Author of City Of Bohane & Night Boat to Tangier
---
'The Tangle Box is compelling. A subtle and complex portrait of crisis and all that ripples out from it, drawn with sensitivity and care.'
-Helen Mort
Prize winning poet and author of Division Street and Black Car Burning.
---
'I read The Tangle Box in one gulp, start to finish. I could not put it down. It is a great book.
-Una Mannion
Author of A Crooked Tree
---
'A relentless narrative engine drives this story. It's a psychologically subtle and morally complex tale.'
-Aiden O'Reilly
Author of Greeting Hero
Order Now!
About the Book
The story of Dan and Maria's life both before and after the event that separated them, unfolds during a number of sessions with therapist, Cathryn Ryan. Their slowly unravelling story of  growing up within a dysfunctional family and among a closed, tightlipped community. We travel with Dan as he returns to the ruin of his family home and relives the experiences of his childhood.
In the memories he recounts to Cathryn Ryan, he relates the story of a mother, Caroline, who was abusive, a father, Tommy who despite his love for his children was an enabler. We learn about  a community that closed ranks around their own and about Dan's later life and how his childhood impacted on his ability to form relationships and process experiences.
At the centre of the story is a suppressed memory of the day Maria and Caroline O'Neill disappeared. In returning to his childhood home, Dan attempts to recall what happened there and the consequences that followed.
At its heart, The Tangle Box is a story of hope and triumph, that has captivated its early readers. One reviewer said of it, once started, I couldn't put this book down. 
A tightly written debut novel that will leave the reader with an indelible impression of these well wrought and unforgettable characters.
Endorsements
"Darkly compelling and driven by a powerful, page-turning momentum." -Kevin Barry Author of City Of Bohane & Night Boat to Tangier
The new novel The Tangle Box, by Dave Kavanagh, a proper page turner. I began it Saturday evening, and spent all free time Sunday picking it up again. By the evening, I was near the end, and saved the ending to read with my morning cuppa. I wasn't disappointed. The hook was firmly in place on the first page, and I settled in for a good read. There are writers who tell a story, and writers who tell the tale with the added beauty of a well made sentence. We used call this literary fiction, when the writing went beyond telling and into the exposition of beautiful form. You'll find that here too, when his love for the land he is describing enhances the descriptions. Here is a writer to enjoy and pass along to your best reading buddies. 5 star.
The tangle of life is a layered, complicated story that portrays relationships of love, abuse, mental illness and healing. In its horror and humanity, it unfolds in the therapist's office. Prompted by her occasional questions, the author pulls us into the story with strong descriptions of life in an isolated farm where the central characters, a family of four, carry their daily tasks in fear of a tyrannical mother. Dan, her son and the adult narrator, a survivor of alcohol abuse, tracks his family tree in an effort to understand family dynamics and elucidate his sister's secret, one that his family and his memory have conspired to keep hidden. In the retelling of the protagonist's life trajectory, accented by the constant pain and presence of an old leg injury, the author takes us to the last revelation and healing. David Kavanagh's debut novel is a beautifully written, engaging drama that keeps the reader turning its pages to follow powerful portrayals of characters and lovely descriptions of settings. A must read.
– Sophia Kouidou-Giles, Author of Sophia's Return: Uncovering my Mother's Past An honest review based on an ARC.
'The Tangle Box' is a tremendous read – once I'd started reading, I couldn't stop. Both structure and pace were superb. Kavanagh's development of Cathryn as a real, fleshed-out character rather than just some kind of surrogate reader was masterful. It meant that we engaged on all sorts of levels. But, of course, the characterisation of Danny and his painful uncovering of the truth were particularly compelling. I had to know just as he did, although, like him, there were times when I shied away from that knowledge. When his mother made her awful choice as Danny looked on and as we read on, watching Danny looking on, Kavanagh handled the telling of that grim scene superbly. I knew what was coming when Danny told us the spirit was 'clear' but in my heart I still hoped I'd misread the signs and then that awful pronouncement: 'I did it before and I'll do it again.' The narrative patterning (Ma wanted the water hot and Da wanted the boiler 'hot as hell'), the imagery (the green handle of the potato peeler) – it was the use of specifics like that that really gave the narrative such power. The description of the landscape supported the storytelling wonderfully: Danny gets tangled in the briar because he still hasn't unravelled his tangle box, which in turn encourages us to continue with our own unravelling. In other hands all of this sadness and madness could have veered towards melodrama, but it didn't. The poised, balanced description ensured that, while we might have flinched from the horror, we believed in the characters enough to appreciate the constraints of the different boxes they were tangled up in. I loved the ending; it signalled hope and healing but not in a syrupy way. Again, because much was implied rather than told, we were able to imagine the lives they might live in the future once 'the blade descends and sweeps her away.' All of these factors contributed towards the telling of a tale that gripped me from start to finish – and for days after.
The Tangle Box is a riveting read; we imagine. Kavanagh confidently paces his narrative, as memories are teased out, and the adult Daniel returns to face a turbulent past, a past which still holds him in its grip. Revelations come upon the reader suddenly, adding surprising intrigue to the telling. Descriptions of the Irish landscape sometimes suggest an unholy alliance with the mental and physical torments of the narrator and at other times expose the vulnerability of children: 'I lay on Maria's bed, never wanting to leave, and clinging to the images of how we fought back . Memories of rebellion, our weapons - apples, pears and toffee'. An unsettling story, realistically lifting the lid on what can go on behind closed doors. Once started, I couldn't put this book down.
– Maggie Harris, Guyana Prize and Commonwealth Short Story Prize Winner.
Dave Kavanagh's The Tangle Box is a powerful story of a broken man, immediate in its first person perspective. Evocative in its opening, compelling in its closing. It's a tale of unlikely monsters, disquieting in its honesty, brutal in its secrets. You won't forget it in a hurry. -
– Eugen Bacon, award-winning author of Claiming T-Mo and Writing Speculative Fiction.